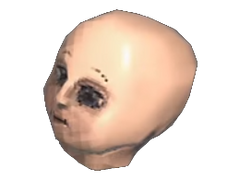 "A small doll head made from some sort of soft porcelain. I can hear something rattling around inside it." -Inventory Description
Doll Head
The doll head is a puzzle item found within a refrigerator at Nezumi Testing. It can be broken open using an adjustable clamp found in another room, each twist of the clamp squeezing the doll head until it pops. Each twist also increasingly distorts the player's screen; shrinking its width, and creating a fracture-like effect. After popping open the doll head, the screen will flash red before turning back to normal, and a picklock set can be found inside, allowing the player open a door and progress through the level.
Community content is available under
CC-BY-SA
unless otherwise noted.